Madrid, October 8 2007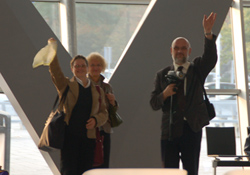 Finally, the day of our departure had arrived. After a crazy last couple of weeks, in which we packed up our house (or what was left of it after selling half of our belongings) and in which we tried to say goodbye to our friends and family, leaving The Netherlands happened unexpectedly suddenly. Only when we went through security at the Eindhoven airport, did I start to realize what it was that we were doing. Not only leaving on a long and adventurous trip, but basically moving away from the country that I grew up in. It made me cry. However, I was still very certain that this is what I want to do.
Griñon, October 12 2007 
After staying in a nice campground in Madrid to sleep, to rest and to work on our website, we started biking. Quite a challenge to make our way out of this huge city, but once we were out, biking started to be enjoyable again. We slept in an olive orchard.
Toledo, October 14 2007
Scrambled eggs, sausage and orange juice. Not a bad ´Sunday Morning Breakfast´, isn´t it? We´re in a campground in Toledo, doing laundry, enjoying the best showers in Spain and discovering the city. We are taking it easy, letting our legs get used to biking, our backs to sleeping on the ground and our minds to living the life of worldbikers. Camping is fortunately a routine to us. Since it is sunny and warm, it´s a pleasure to be outside. How different from last year. Timing is certinly better this time around. We are expecting to be in Spain for three more weeks, unless biking becomes easier quickly. But so far Spain is no punishment. People are friendly and willing to help.